Overview
The essentry kiosk is delivered in two components:
Screen unit

32" touch display with integrated 3D depth cameras
PC unit

Base unit

ID scanner
Thermal printer Paper
RFID card dispenser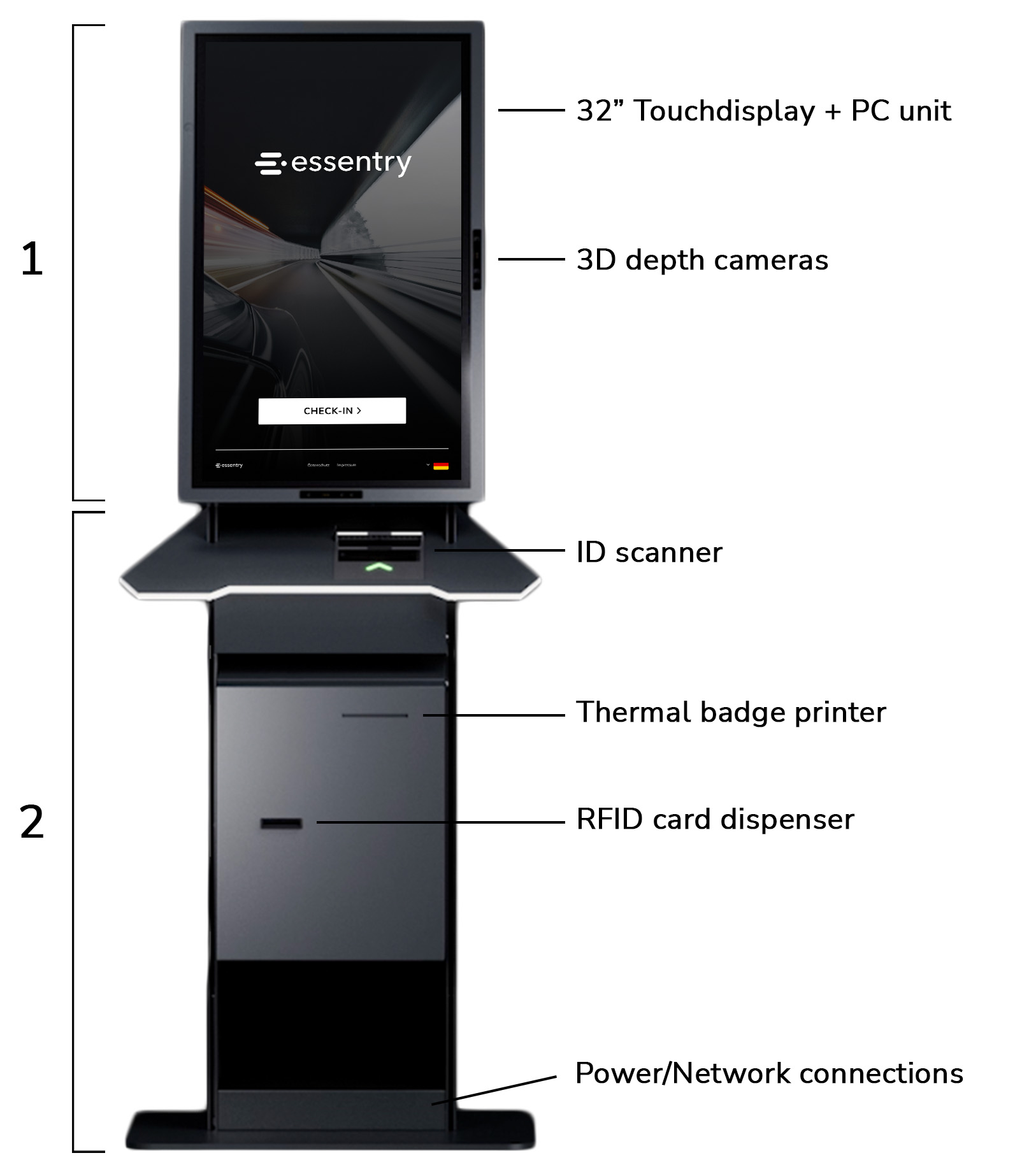 Power and network connections in the base of the device:
(LAN connections must be plugged in horizontally)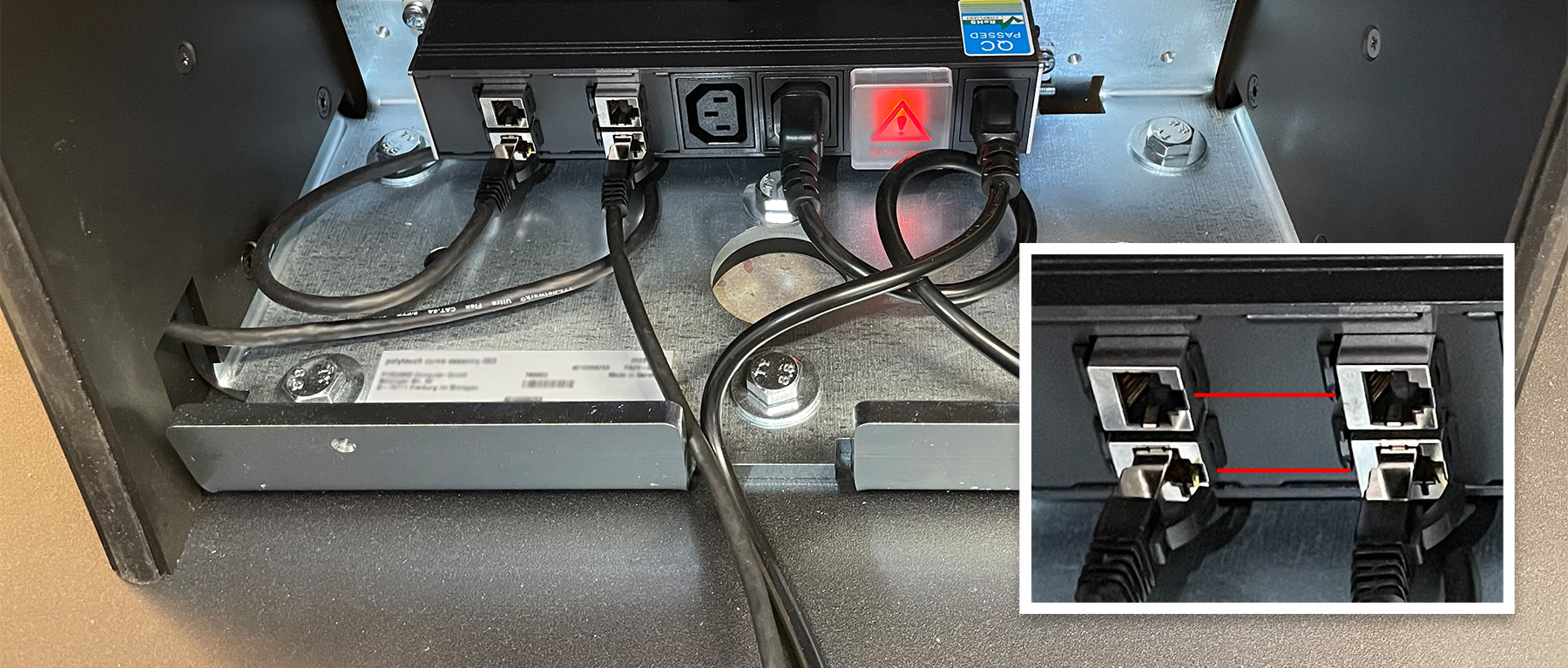 The two units are assembled, configured and tested for you by our technician.
Scope of delivery
1.5m cold appliance cable with Schuko plug (angled)
Card weight for RFID card dispenser
2 keys for the lower housing
2 keys for the upper housing
Technical data sheet
6 rubber furniture glides for sensitive floors
Kiosk measurements and weight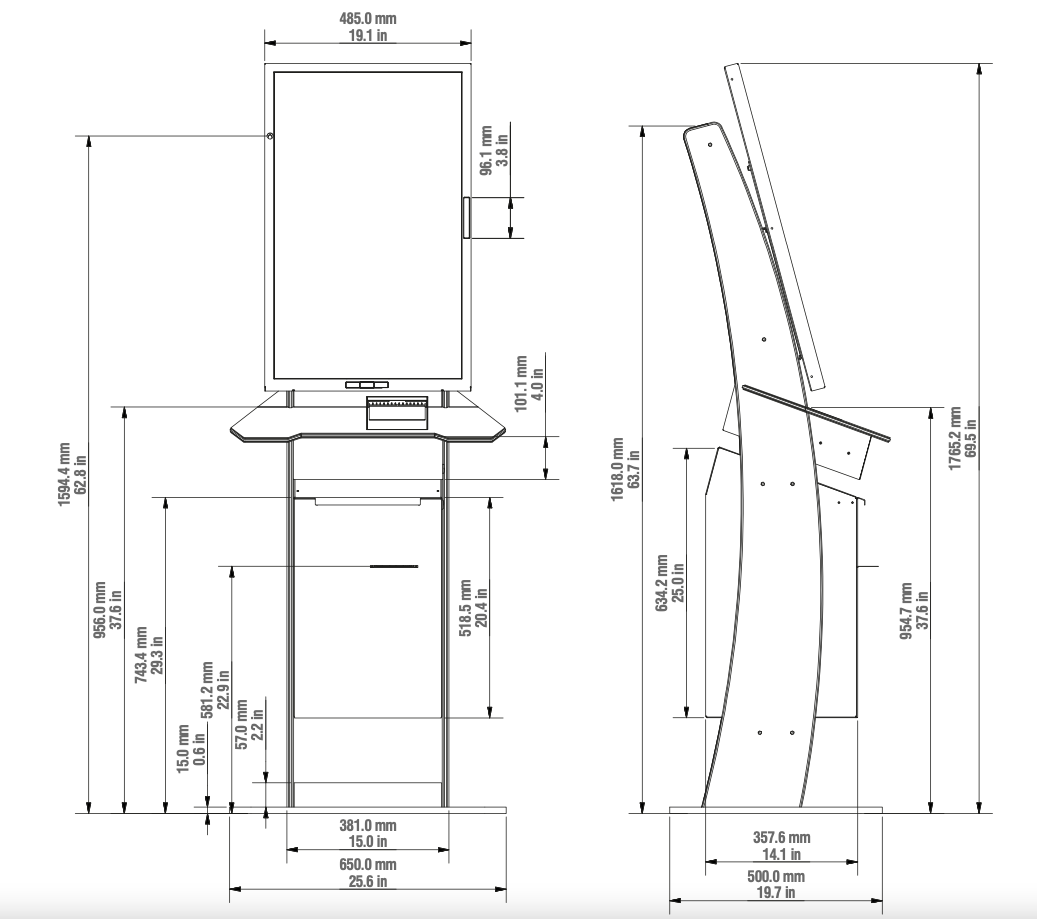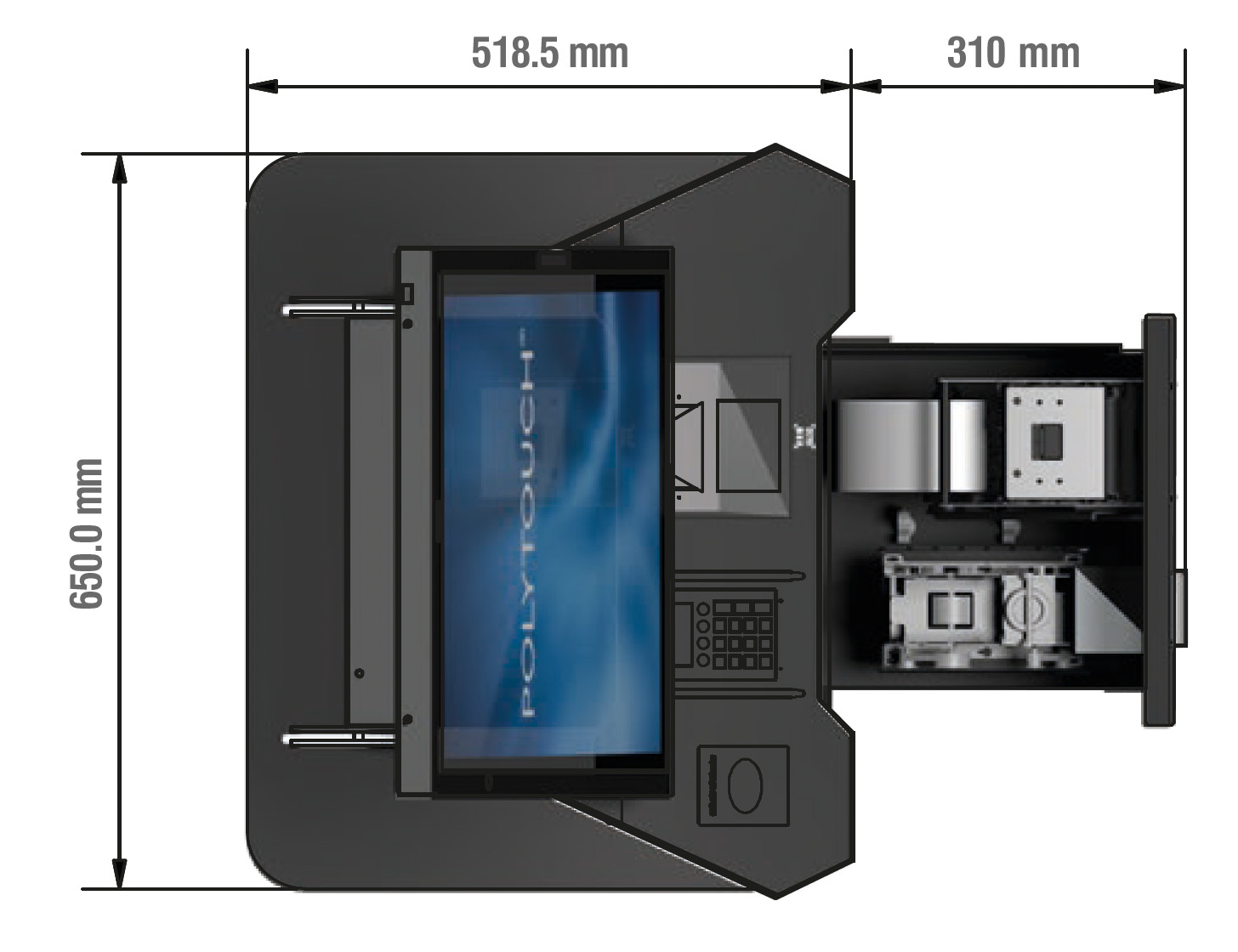 The weight of the kiosk is approximately 150 kg.
Technical notes / regulations
The device meets the valid standards for multimedia devices:
Emission EN 55032, EN 61000-3-2, EN 61000-3-3
Susceptibility EN 55024:2010
CE mark
Additional notes for usage:
Replace damaged cables immediately.
Keep the device away from vibrations, dust, humidity and heat. Always keep the ventilation slots free of obstruction to ensure adequate air circulation to avoid overheating.
Never put an essentry-kiosk

into operation if it is damaged.

In case of an accident (such as a damaged housing, entry of liquids or foreign objects), use the separator in the building installation to completely remove the device from power.
A lithium battery is supplied with the device. Batteries must be disposed of according to local regulations on the disposal of special waste.

Informations for cleaning
To ensure that the system offers optimum service, you need to clean it regularly. How often it requires cleaning will depend on how you use it. If you always have clean fingers when you use it, you will have to clean it less often. Therefore, check the condition of the screen on a daily basis.
The glass surface and acrylic front of the device should be cleaned with a mild, abrasive-free, commercially available glass cleaning product.
Apply the cleaner with a soft, lint-free cloth. Avoid using gritty cloths. Clean only the front surface of the sensor.
To remove persistent stains you can use a soft cloth saturated with ethyl alcohol or benzol free benzine (cleaner's solvent).
Never use NaOH, butanol or IPA, avoid using any corrosive or caustic chemicals on the sensor.
Do NOT use any hard objects or abrasive cleaning agents which can damage the touchscreen or the side sections.
Always dampen the cloth and then clean the sensor. Be sure to spray the cleaning liquid onto the cloth, not the sensor, so that drips do not seep inside the display or stain the bezel.
A wrong maintenance may cause damages to the screen, which are not covered by guarantee or warranty.
When carrying out work on the components and modules that carry an electrical charge, this equipment must first be disconnected from the power supply.
More information
Preperation of essentry implementation
Can the essentry kiosk be mounted to the floor?
Updated